What Is Vitamin C | Vitamin C Benefits | Sources | Deficiency | Popular Products | FAQs | Warnings And Side Effects
The post Vitamin C | What Are The Benefits And How You Can Avoid A Deficiency appeared first on Supplement Reviews Blog.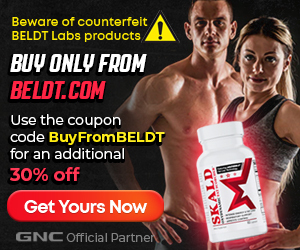 What Is Vitamin C | Vitamin C Benefits | Sources | Deficiency | Popular Products | FAQs | Warnings And Side Effects | References | Disclaimer
Maintaining a strong immune system is essential for fighting off and preventing illness. Luckily there are simple ways to improve your immune system, like with getting enough vitamins and minerals. Vitamin C is an example of an essential vitamin for promoting immunity. In this post, we're going over what vitamin C is, natural sources, popular supplements, and more!
What Is Vitamin C?
Vitamin C (ascorbic acid) is a water-soluble vitamin, which means it dissolves in water and is excreted from the body. Whereas fat-soluble vitamins are stored within the body. Because of this, you will need to replenish this daily through your diet.
Benefits:
This vitamin plays a role in fighting infections, promoting healing of wounds, and is a powerful antioxidant. Additionally, it's also important for maintaining the health of collagen; collagen is a connective tissue that holds muscles, bones, and other tissues together. Vitamin C may also support absorption of iron and help reduce the risk of chronic diseases, like heart disease.  And is  essential for carnitine and neurotransmitters biosynthesis.†

Vitamin C Sources:
Not surprisingly, oranges are rich in this vitamin! But, if you're not a fan of oranges, there are other fruits and veggies that are a great source for vitamin C.
Fruits:
Oranges

Kiwi

Lemon

Grapefruit

Strawberries

Tomatoes
---
Vegetables:
Broccoli

Brussels sprouts

Cabbage

Cauliflower

Bell peppers

White potatoes
And, if you struggle to meet the recommended daily allowance (RDA) through food there is also supplements. The current RDA for adults is 75mg for females and 90mg for males. However, there are times you may want to consider taking more, such as during illness or pregnancy.†
Vitamin C Deficiency:
One of the most recognized signs of this vitamin deficiency are symptoms of scurvy. Scurvy is a disease that can cause other issues such as anemia, bleeding gums, bruising and poor wound healing. Luckily, this deficiency isn't common in developed countries. But, if you believe you may not be meeting the RDA, there are signs and symptoms of a vitamin c deficiency to look out for.†
Signs of a Deficiency:
Scurvy†

Fatigue†

Malaise†

Gum Inflammation†

Joint Pain†

Poor Wound Healing†

Iron-deficiency Anemia†
Popular Products:
In this section, we're going to introduce some of our popular products:
But these aren't the only popular options available. You can view other products on our website.
---
Hi-Tech Pharmaceutical's Vitamin C comes with bioflavonoids and their advanced Cyclosome Liposomal Delivery Technology, which can improve the absorption of this formula. With the addition of Citrus bioflavonoids, this product may also improve blood flow and ease swelling/inflammation.†
How To Take It:
Hi-Tech Pharmaceuticals' recommends healthy adults taking two (2) tablets one to two times daily, preferably with food.
Customer Review By Eric: "This is great vitamin option. Normally I just go for gummies because I hate taking pills, but these aren't bad and help avoid the unnecessary sugars. I didn't get nausea or heartburn either!"
NOW Foods C-1000 tabs is one of their most popular version of Vitamin C. This version features both Rose Hips and Bioflavonoids, where Rose Hips are high in vitamin C. Rose Hips may be help  in preventing and treating colds, flu, and vitamin C deficiencies. Because this line doesn't contain any additional ingredient or delivery system, it may not be as bioavailable as Hi-Tech's. Meaning, while there is 1000mg of ascorbic acid, your body won't be able to to absorb 1000mg.†
Other Forms of Vitamin C from NOW Foods:
How To Take It:
NOW Foods recommends taking 1 tablet daily and to store in a cool, dry place after opening.
Customer Review By Mike: "I've had a lot of medical issues over the last five years and the doctor gave me a list of supplements to take; vitamin c was one of them. After trying several that upset my stomach or made my acid reflux worse I bought this. I love this product. Gives me the potency I need without the bad side effects. It's the only C I buy now."
Kirkland Signature, similar to NOW Foods, also has other forms of Vitamin C. Additionally, this version of Vitamin C also features 1000mg of ascorbic acid, Rose Hips, and Bioflavonoids. But, again this product does not feature an ingredient or delivery system to promote absorption. †
Other Vitamin C from Kirkland:
How To Take It:
Kirkland recommends adults taking one (1) tablet daily with food as a dietary supplement.
Customer Review By Mileide: "I will buy again. Everything went well, delivery arrived on time." Posted on
Vitamin C FAQs:
 Is Vitamin C The Same As Ascorbic Acid?
Yes! Though some research articles say ascorbic acid is vitamin c in its purest form, most articles use them interchangeably.†
Can I Take It With Zinc?
Yes! Some studies suggest taking both these nutrients may help reducing symptoms of colds and other respiratory infections. However, more research is needed to confirm this.†
Vitamin C For Periods?
It's possible for vitamin c to elevate estrogen levels (especially when taken with these oral contraceptives) and lower progesterone levels. This may cause the uterus to contract and the lining of the uterus to break down, leading to the onset of menstruation. † However, more research is needed to confirm this.
Outside of this, studies show variations in serum antioxidant levels throughout the menstrual cycle, higher levels during ovulation and lower during the first day of menstruation. Yet studies did not find supporting evidence that supplemental vitamins could alleviate PMS symptoms.†
Is It Good For Skin?
Ascorbic Acid does play an important role in maintaining skin health. But should you supplement it or apply it topically? Studies show that this vitamin in the form of a serum is proportionally effective to its concentration. But this studies also shows this concentration is only maxed out at 20% for efficacy. Meaning a serum that claims 50% concentration is no more effective than 20%. However, serum featuring a combination of tyrosine, zinc, and vitamin c may increase the bioavailability for your skin 20-times. Yet, magnesium ascorbyl-phosphate (MAP) may be the most stable and preferred ascorbyl-ester. This is because it is easily absorbed into the skin, can promote hydration, and increase collagen production.†
Wrapping Up!
This wraps up our post on Vitamin C. Thank you for reading! And as always, if there was something that wasn't clear, another question you want to be addressed, or if you have another idea for a blog,  Email Us!
Looking for more to read? Check out some of our other blogs!
Warnings And Side Effects:
For adults only. Consult physician if pregnant/nursing, taking medication, or have a medical condition. Keep out of reach of children.
When taken at appropriate doses, oral vitamin C supplements are generally considered safe. Taking too much can cause side effects, including:
Nausea, vomiting and diarrhea

Heartburn

Stomach cramps or bloating

Fatigue and sleepiness, or sometimes insomnia

Headache

Skin flushing
In some people, oral supplements can cause kidney stones, especially when taken in high doses. Long-term use of oral vitamin C supplements over 2,000 milligrams a day increases the risk of significant side effects.
Tell your doctor that you're taking vitamin C supplements before having any medical tests. High levels of vitamin C might interfere with the results of certain tests, such as stool tests for occult blood or glucose screening tests.
References:
Disclaimer:
†PLEASE NOTE: The intention of the information provided is for reference only. Furthermore, we are in no way providing medical advice or instruction. Instead, the information provided in this guide/blog is based on anecdotal information and available studies/reviews. While it is our goal to maintain and display accurate information, we can't guarantee it represents the latest formulation of the product or information. Therefore, if you have any concerns, please visit the manufacturer's website. Also, the information above is not a representation of our views at Same Day Supplements. Rather, these are the views and information provided by the manufacturers and users. The Food and Drug Administration has not evaluated these statements. Finally, the intention of these products is not to diagnose, treat, cure or prevent any disease or illness.
The post Vitamin C | What Are The Benefits And How You Can Avoid A Deficiency appeared first on Supplement Reviews Blog.